Be Sober, the Lack of Alcohol Does Not Cause One to be Sober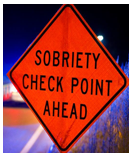 I grew up in a home with an alcoholic parent. The uncertainty, the violence, the feeling of living in chaos was ever present. It is likely that many of you had similar experiences. There are more than 12 million alcoholics in the United States.  As a child one of the things I vowed to do was to be sober. That does not mean I never ingested alcohol. The lack of alcohol does not cause one to be sober.
Sobriety Long Ago
Between A.D. 60 and 65 the book of 1Peter (some believe it was penned by the Apostle Peter) gave very strong messages to the believers in the ancient world. Those people, along with Peter endured much persecution, for having faith in Jesus the Christ. The last three occurrences of the word sober, in the King James Version of the Bible appear in the book of 1Peter.
The book's call to sobriety does not relate to the absorption of alcohol.  Sober, as it is referenced in the New Testament comes from the Greek translated as nepho and signifies "to be free from the influence of intoxicants" however, it speaks metaphorically in the six locations where it is found in the later section of the Bible. Intoxicants relates to "something (such as an alcoholic drink) that causes people to become excited or confused and less able to control what they say or do" according to Merriam Webster.
Watchfulness would be a way of expressing sobriety as mentioned in 1 Peter and the other instances the word nepho appears in the New Testament. Be sober, the lack of alcohol does not cause one to be sober.
How Sober?
If sobriety is synonymous with being watchful how sober must one be? The passage that most strongly comes to mind when I think about being sober is found in 1Peter 5:8 which appears as follows in the King James Version: "Be sober, be vigilant; because your adversary the devil, as a roaring lion, walketh about, seeking whom he may devour:"  In the Message Version: "Keep a cool head. Stay alert. The Devil is poised to pounce, and would like nothing better than to catch you napping. Keep your guard up." In the Amplified Version: "Be well balanced (temperate, sober of mind), be vigilant and cautious at all times; for that enemy of yours, the devil, roams around like a lion roaring [[a]in fierce hunger], seeking someone to seize upon and devour."
In The Flesh
I reflect on my trip to the continent of Africa. My husband and I went on safari while there. One of the most memorable aspects of our trip to the country of South Africa was seeing lions in the wild. We traveled in an open top vehicle with no windows. We came upon a pride of lions, lounging in the heat of the day, under shade trees in the tall grass. There are no words to properly describe the feelings of our group of about forty individuals when we were told (in a whisper) by our armed, tour guide to be very quiet as our vehicle slowed to a stop about 20 feet from the "King of the Jungle".
The head of the lion is huge. Its eyes piercing and its presence one of confidence and power. Equally as spectacular as viewing their presence was hearing a distant roar, that seemed to be delivered in quadraphonic synchronicity. As these lions were before us, as though suspended in time we were extremely vigilant. Our every move, even our very breath was monitored. Not one of us wanted to be placed in harm's way.
There was no debate, when faced with that fierce beast, what it meant to be watchful. We were all sober. We required no one to explain how sober we needed to be. Whatever level it took to keep us safe was enough.
Our guide had instructed us prior to the sighting. Our consent waivers, absolving the safari organizers of liability, should we suffer injury or death, while on the safari, had already been filed away. There was no time for defining what action to take we were to follow instructions and be sober. Be sober, the lack of alcohol does not cause one to be sober.
The Lion we Face
As we move along the path on our individual journeys, we each face the adversary, who like a roaring lion sets out to pounce, seize or devour us. What is it that we have already been told that will help us as we move in his habitat? How can we avoid his attacks? Are you being watchful? Are you following the instructions of your knowledgeable and armed guide? Exactly how watchful is watchful enough?
Indeed we are living in very dark times. As recorded in the writings of the Bible we have been instructed, to search ourselves, to watch, to do and to pray. Do not allow yourself to be distracted by those intoxicants that proliferate our environment. Be sober, merely the lack of alcohol does not cause us to be sober. Sober or not the lion is roaming about. Blessing is found in our ability to choose sobriety. How watchful are you?
Love,
Deborah
"Lighting the path to loving your neighbor as yourself."