Soft Opening, Planning for Good Success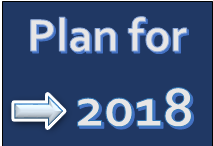 Why not try a soft opening this year? As we quickly approach the dawning of 2018, aside from thinking about how quickly this year seems to have advanced, I am taking inventory of my actions over the past year. What went well? What could I do better and what opportunities do I have to improve? These are some of the queries I ponder. In so doing, I have decided to take preemptive action. A December "soft opening" came to mind.
A local restaurant had a soft opening last week. There was no major advertising, no fanfare there was only  a short blurb on a community web service that features neighborhood events. While I did not attend, I heard that there was a long wait for service, wait staff was unfamiliar with the menu, some items lacked appropriate portion size and flavor. I get that this was the restaurant's first attempt at opening its doors and the likelihood of them getting a Michelin Star for their performance was nonexistent. However, some part of me thought, it would have been phenomenal if they could have at least done a good job considering it was a soft opening.
Yet having this dress rehearsal (of sorts) allows them to identify areas they can finetune, before the official launch. Once the doors open, surely the quality of the restaurant will be expected to be higher. The expectations of customers will be higher. They will not be readily given a pass on poor service for food that lacks the basics. Surely the plan is to succeed.
Plan to Succeed
There is an adage, generally credited to Benjamin Franklin, "If you fail to plan, you plan to fail." Focusing, deliberately on what we desire to achieve, with consistent effort increases the likelihood that we will succeed.   
What if we could likewise get an earlier start on getting out the kinks before that unofficial window of New Year's resolutions opens? Make no mistake, I am not of the opinion that we should wait until we welcome a particular date on the calendar to begin affirming we will make improvements in our lives. Yet during the first weeks of 2018 it seems, as is common practice,  in years past, we announce "My New Year's resolution is to…" followed by something embraced in January that appears we have lost sight of by March!
Perhaps planning a soft opening, in December, would allow us to begin the fine tuning earlier, so that when the "official" avalanche of energy around resolutions comes (around mid-January), our efforts would gain momentum. Those resolutions do not become a reality on their own.It does take a real strategy to make them come to pass. Having some form of a soft opening would give us a head start on practicing those strategies.
The more I experience life the clearer it becomes to me that taking inventory of my life through my thoughts and actions is extremely vital. The way of a healthy person must include looking at one's life in order to improve it. When we refuse to see how our actions and thoughts contribute to undesirable outcomes we experience we are almost destined to repeat them.
Examine Yourself
We are told in 2 Corinthians 13:5 "Examine yourselves, whether ye be in the faith; prove your own selves. Know ye not your own selves, how that Jesus Christ is in you, except ye be reprobates?" (KJV) When we examine ourselves what does that mean? The benefits of examining ourselves includes allowing us to see who we really are and whose we really are.
The purpose of the soft opening is to allow the restaurateur the ability to verify where they are on target for success. As we walk on this journey of life, we are to drop the failures of the past. We are to search for God's perfect will for the future. Set your course now, for a soft opening. What is His official plan for you in 2018? Look forward to what He wants you to do. Reach forward, with deliberate intention. Focus on His plan for "good success".
Review the many events and actions that have brought you to this point. As you read this post perhaps things have come to mind that you would like to have changed. Perhaps dreams of touching the lives of others in ways God has shown you. Examine the good, the bad and the not so pretty. Repent for those misdeeds. Rejoice for God's love. Request His guidance for good success. Think on the things of God. Press toward the mark.
Have a phenomenal opening in 2018! Preface it with a soft opening, which illustrates your deliberate, consistent, focus on following our loving Father's plan for good success!
Do you plan to succeed? Take Inventory and Take Action!
Love,
Deborah
"Lighting the path to loving your neighbor as yourself."