Making a List and Checking it Twice, Planning for a Better Year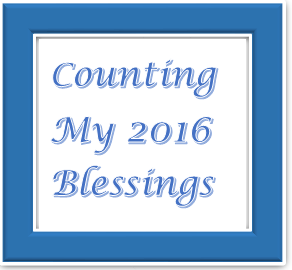 As we come to the end of 2016 it is wise to take some time to reflect. We probably have as many if not more concerns than we had last year at this time. I am making a list and checking it twice; over the next several days! My list has nothing to do with the behaviors of others. I am not focused on who has been naughty or nice. My focus is outward and upward. Planning for a better year.
This year, like most others in my memory bank, has had its challenges, joys and disappointments. The times I want to revisit again, those I want to distance myself from, and those I would rather blend into the backdrop of my life. As I recount the years, one constant is God's love. On my darkest days or the most difficult seasons in life, He has always been there, constantly assuring me of His love. His Word affirms us that He will not leave us nor forsake us.
That is a promise that I have seen kept throughout my life! No matter how deep the valley, no matter how lofty the mountain, He has never left me nor forsaken me, not ever.
Have there been times when I thought all was lost? Have I been at the end of myself with no ideas of what would be my next steps? Have I imagined the very end of life was near? Indeed! No doubt you have too!
Part of our shared human condition dictates that we have triumphs and challenges in this life. However, His Word reminds us that even though we have great trouble or suffering, He has conquered this world. What a comfort those words are to me.
Been Through Some Trouble?
I know those words to be more than rhetoric. I have experienced tribulation (the word used in the passage above, found in several translations of John 16:33). How about you, have you had great trouble, suffering or tribulation? How did you move forward?
Perhaps you have just come out of a season of tribulation, you are still there or you can see it on the horizon. The words of Jesus as recorded by John in Chapter 16 verse 33 indicate that we will have trouble in this world. Therefore if you are not in that season now, at some point it will be upon you.
Making a List?
I am making a list and checking it twice. My list has to do with the situations during 2016 where God has illustrated to me His love as expressed in actions of: faithfulness, grace, favor, kindness and mercy. As I take inventory and take action over the next several days, I desire to limit my recollections to the timeframe of the last twelve months.
I plan to list the blessings that seem to come from nowhere. The times when doors were opened, and those that were rightfully closed. I propose to list the times that I conceived of solutions that I came to know would not have worked. I intend to list the sins I committed that my loving Father removed from me because of His promise related to repentance. I aim to praise Him for the unmerited favor He has given me, more times than I can even count.  
I plan to praise Him for His greatness!  Not only at this time of year, but especially at this time of year I will praise Him! I am making a list and checking it twice!
It is my desire, like never before, to list, rehearse and acknowledge the goodness of God. Making a list and checking it twice!
Planning for a Better Year
Allow your list to be a reference tool for the troubles, which will come in the future. As you refer back on your list you will inspire patience and fortitude during your new tribulations. Indeed, they will come.
Let us all deliberately prepare to succeed in the New Year as we walk by faith into new opportunities to rely on our Heavenly Father. As we follow His will in our lives He has promised us many things. As we love ourselves first by looking at the victories on the list we will be empowered to draw closer to God, examine ourselves and sow good seeds. We are promised to reap what we sow.
Take Inventory and Take Action! There is still time before we enter 2017 for those ready to begin, making a list and checking it twice!
Love,
Deborah
"Lighting the path to loving your neighbor as yourself."