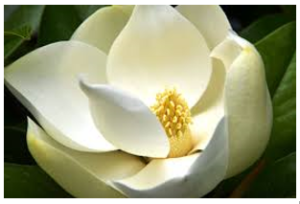 One of the tasks we will all be faced with the longer we live is saying goodbye. We must say goodbye to lifestyles, technology (which is constantly being replaced by the new and improved version) or those that have a dear place in the heart. Saying goodbye is inevitable. The longer we are here the more we will find ourselves saying goodbye.
More than a pair of well-worn shoes or a favorite vehicle, the heart is tugged by a person that has been instrumental in our life. This week I am saying goodbye to a beautiful flower. Her name is Magnolia. I first wrote about her here in 2013. Her tiny frame, was laid to rest on Friday, July 8, 2016 at the age of 87.
Although her outward stature was under five feet her heart was as big as they come. She had a soft spot for children and found herself in the teaching profession. She was the first person to offer me a teaching position as an instructional aide many, many moons ago. I found her to be caring, hardworking and able to move mountains for those children in her heart including her sons, grandchildren and great grandchildren.
She was also my neighbor for most of my adult life, living across the street in a close knit Los Angeles community. One of those neighbors that has your house key, just in case. One of those relationships where you feel somebody really has your back. She and her loving husband spent countless hours walking across the street to check on family members, share greetings and provide support when necessary. An authentic example of being a good neighbor. Now we are saying goodbye.
About a year ago we said a major goodbye as my husband and I moved from the family home we had shared our entire marriage. The most significant goodbye was one I could not bring myself to utter at the time was to dear Magnolia. She had begun experiencing more health problems. She was not able to take that walk across the street with ease as she had done so many times before. Even the occasions of her standing in her big picture window to wave across to me, had almost come to a complete halt. Those times, when as if I could hear her beckoning me I would look out my front window and be met with her sweet smile. We would wave at each other and then go on with our day. Saying goodbye.
Long before we moved I intentionally spent more time with her. I began saying goodbye. I sent many bouquets of beautiful flowers. I shared my admiration in words and deeds. I walked across the street giving her an ear willing to hear about her life as a young woman. We talked about her early teaching experiences. We shared stories of the time we worked together. She detailed raising her boys, traveling with her husband and life with all of its complexities. I learned how she and her husband met and some of the bumps in the road she experienced, that remained hidden behind her smile. Thinking about those talks, watching her look off into the distance and recall, as if watching a movie; the scenes of her life feeds me today.
Saying Goodbye
When I think about those pivotal in assisting me to become the woman that I am today, she is there on the list. People can affect our lives by helping us to see what we want to be. They can impact us so profoundly that we vow never to be like them. There are also those that honor us by allowing us to be who God made us to be. Magnolia was one of those people.
If you were to actually list those people in your life who would be on your short list? In what category would you place them? Looking at your life there are those that have left a mark on your life. There are those from the past and those that currently impact the pages of your life. If they suddenly had to leave your life what heartfelt remembrances of their contribution would they carry with them? How would you want to say goodbye? What flowers will you give while they can share the scent with you?
If you had the chance, at this very moment, to begin saying goodbye what would you say? What would you want to have expressed before that person transitions? Time is passing. One thing for certain, those that have been with us through our yesterdays will not occupy the same space in our tomorrows. Please take the time to begin intentionally saying goodbye to those in your life today.
Notice the magnolias God has allowed to stimulate growth in your life. I will dearly miss Magnolia and keep her memory in my heart with no regrets of unspoken words.
Love,
Deborah
"Lighting the path to loving your neighbor as yourself."
"Find a bit of beauty in the world today.
Share it.  If you can't find it, create it.
Some days this may be hard to do.
Persevere."
   — Lisa Bonchek Adams